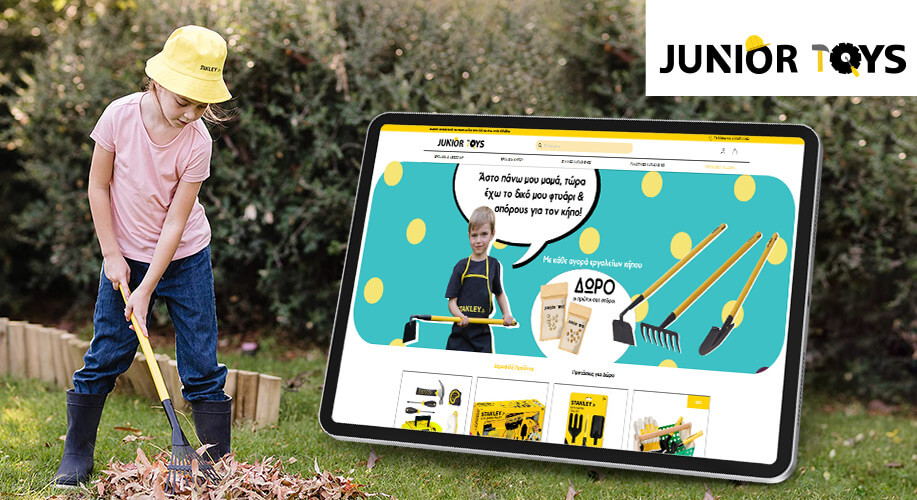 STANLEY Jr. Toys: The new yellow Rewards Program Partner
We welcome STANLEY Jr. Toys, the new yellow Rewards Program Partner.
STANLEY Jr. Toys is the toy e-shop you were looking for! Discover at www.stanleyjrtoys.gr really top quality toys, for children from 3 years with creative interests, who like to craft. The special feature of STANLEY Jr. Toys is that they are made of high-quality wood and look like real tools while adhering to the strict standards for child safety.
The aim of STANLEY Jr. Toys is the children to play with kid-sized tools and creative toys, to make wooden toys from scratch, leaving their imagination free. At the same time, they can paint and decorate their creations as they wish, to give their own special, personal touch. The garden tools that you will find at the e-shop are handy and give children the opportunity to discover the magic of carving, planting, caring for and developing their own small garden. At www.stanleyjrtoys.gr you can also find vehicles made of high-quality plastic. All STANLEY Jr. Toys are designed to feed the imagination and creativity of children. They also bring the family closer, by creating opportunities for children to "craft" with the parent's guidance to assemble the toys or be engaged in gardening.
STANLEY Jr. Toys is a modern online store, which ships anywhere in Greece. Take a look at the website and find the perfect gift for creative children!
Learn more about the new Rewards' Program Partner and the ways to earn and redeem yellows here.